Airships are small aircraft utilized by the Skitters directly for close air support against enemy forces. They are known as "Beamers" by the Second Mass. Pope's Gang successfully used flares to attract them (The Armory)

Recent intel shows that these are bio mechanical drones.
Specifications/Overview
Edit
The Airships are used by the Skitters as deadly vehicles designed for close and long-range air support to their ground troops. Coupled with dense, protected armor, several powerful weapons and rapid term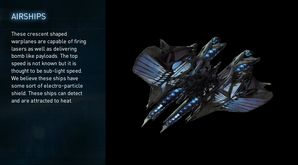 final velocity, the Airship is used for general combat and close air support of the Skitters' ground forces. Ships are almost always present where skitters roam, and if not present can be called in a matter of seconds.
The Airships are used as air support vehicles, armed with a variety of powerful weapons for rapid battle domination. They are armed with two laser cannons and very powerful neutron bombs that are used as payload, which are capable enough to kill at least seven armed men, and possibly whole cities . They are usually seen flying in the air and are extremely deadly against ground forces. It is unknown what their weakness is, however one was destroyed in Season Finale Eight Hours by Tom Mason with a Mech-metal RPG or Mech metal anti aircraft fire. In season 2, Beamers are found to be unmanned bio mechanical drones and can be confused of the central command is taken out. They can also be taken out by machine guns, as seen in Shall We Gather at the River.
Use of Bombs
Edit
The Skitters called in an airstrike that blew up South Boston in Live and Learn. They then called in an airstrike against pope's gang when they saw a flare in The Armory. An airship also fired a single bomb at Pope, Maggie and Hal in Worlds Apart
Observations
Edit
Airships were referred to as "Beamers" by members of the 2nd Massachusetts during Worlds Apart