Alexis Glass-Mason
Comments

49
289pages on
this wiki
Alexis Denise Glass-Mason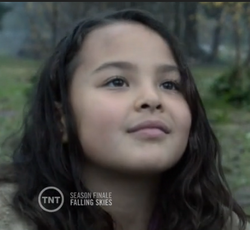 Age
2 months (biologically)/6 years old (physically)
Date of birth
{{{Birth}}}
Date of death
{{{Death}}}
Portrayed by
Erika Forest
[[:Category:{{{Images}}}|Images]]
Alexis "Lexi" Denise Glass-Mason is Tom Mason's and Anne Glass's daughter.
Early Life
Edit
At least 9 months into the invasion Anne found out she was pregnant with Tom's child.(A More Perfect Union) The baby was born at least 7 months later. Tom announced the baby's name at the forum. Alexis showed signs of being "advanced" early on, being able to pull herself up in her bed, move around freely, and talk only a week after being born.(On Thin Ice) Sometime later, Anne has Roger Kadar run a blood test on Alexis and found she had alien DNA in her blood stream.(At All Costs) Dr. Kadar later explained to Weaver and others that this meant she was a human-alien hybrid, an entirely new species.(Search and Recover)
After 2 months, Alexis and Anne are found by Tom after the attack in Boston. When they got to safety in the resistance, Anne spent her time resting in a tent. Meanwhile, we see Alexis approaching the cage for Lourdes who's still bound to the eye worms. As Alexis touches her chin, she cures Lourdes and the eye worms are dragged to her hand instead. As her father Tom and Weaver are watching, she kills the eye worms by closing both of her hands and later when she opens them, the eye worms have vanished and turned into dust.(Brazil)
Personality
Edit
Coming Soon
Appearances
Edit
Season 3
She marks the beginning of an entirly new species.
Unlike any other human, Alexis has alien DNA in her blood.