Boon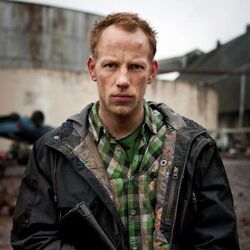 Portrayed by
Billy Wickman
[[:Category:{{{Images}}}|Images]]
Boon was a member of the 2nd Massachusetts Militia Regiment.
Boon and Tector used Matt Mason as bait for two Skitters. When Matt appeared trapped, Boon and Tector killed them both. Tom Mason later found out and was furious with Tector and Boon for using his son as bait; when Tom assigned them to menial tasks, Boon did not respond well.
Later after the 2nd Mass captured and interrogated "Red Eye" the Skitter attempted to escape, Boon while trying to stop it, accidentally shot and killed Rick Thompson.
He was later used as a scout with Tector when they were surrounded. He was captured and eventually executed by a Mech as a message to the rest of the 2nd Mass. Tector was visably upset with his death, firing off several rounds.
A few days later, Tector admitted he felt responsible for Boon's death. Captain Weaver was eventually able to convince him that Boon's death was not his fault.