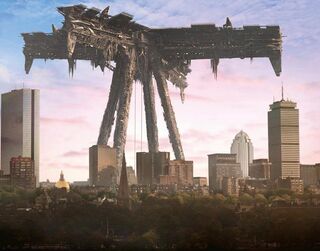 Boston is a major city in Massachusetts. The City is the home to one of the Skitter Motherships.
Pre-InvasionEdit
Before the invasion many of the members of the 2nd Mass lived in or around the Boston area, Captain Weaver lived in Allston, a neighborhood of Boston.
Post-InvasionEdit
At some point before the events of Live and Learn, the Massachusetts Militia attempted to raid a grocery store in Jamaica Plain, it turned out to be a trap involving three Mechs and two Skitters. Six months after the invasion, we see the 2nd Mass and others trying to secure Boston. But soon after, they have to abandon the city due to it being overrun by Skitters. Eventually an assault was planned on the mothership over the city, the plan was to plant a bomb at each of the legs and detonate them, forcing the mothership to collapse. It was stopped by Airships
A successful attack was launched however, when an airship entering one of the hangevers was struck my a 2nd Mass Surface to Air Missile, causing the craft to crash inside the Motherside leading to a chain reaction of explosions that caused significant damage and most likely signifcant loss of life to the aliens.