Diego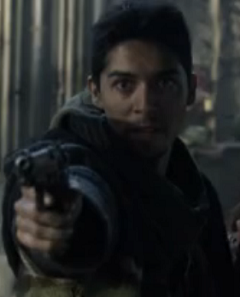 Appeared in
{{{Appearances}}}
Mentioned in
{{{Mentioned}}}
Date of birth
{{{Birth}}}
Date of death
{{{Death}}}
Allegiance
Group of Children survivors
[[:Category:{{{Images}}}|Images]]
Diego is the leader of a group of lost children that the 2nd Mass happens upon in Richmond, Virginia, while on their way to Charleston. Significantly, Diego, who is around 18 or so, is also the boyfriend of Weaver's elder daughter Jeanne, who is a member of Diego's gang. Diego -- who calls the skitters "Chinchas" -- agrees to accompany a 2nd Mass scouting expedition back to their camp for food and supplies, but while he is away the skitters apparently trash his hideout, snatch most of his gang and take them to a nearby harnessing facility. coming back to his hideout finds it trashed and several kids taken to a harness facility. Though Weaver and others with the 2nd Mass insist that Diego wait to formulate a plan to get them back, Diego gathers up the remaining members of his clan, even taking Matt along on the quest, to rush into the factory, where they are predictably captured and prepped for harnessing. The 2nd Mass shows up later and frees them. Diego ultimately decides that he and his gang's best chance for survival is to remain in hiding, and so they leave the 2nd Mass behind.
Jeanne later shows up in Charleston to report that the skitters had attacked them just days after they left the 2nd Mass' camp in Richmond, and that she did not know where Diego and her other friends from the gang currently were.
Diego is reported to return in Season 3, but is harnessed.