Hal Mason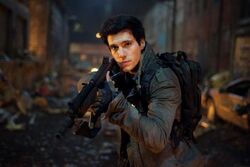 [[:Category:{{{Images}}}|Images]]
Hal Mason is a Scout for the 2nd Massachusetts Militia Regiment and the first of its members to discover the Overlords. Currently, it appears that he is under the aliens' influence after having a parasite injected in him by Karen through a kiss.
Pre-Retreat Edit
Prior to the invasion, Hal Mason was a junior at a high school in Somerville, MA . He played lacrosse for the school. However, after the aliens invaded, he took up arms along with his dad to defend his family, becoming a scout for the Massachusetts Militia. He took two blows early on as his mom is killed and his younger brother, Ben, is captured by the enemy. He has become determined to find Ben and bring him home. ("Live and Learn")
Going to GroundEdit
The Retreat from BostonEdit
Six months later, the Massachusetts Militia is attempting to keep Boston from being occupied, with very little success. Hal and his father, Tom, are attempting to scavenge food in a suburb of Boston called Back Bay, when Mechs, the alien's robot killing machines, begin to take down resistance members. Hal and Tom grab a food cart and begin to wheel it down the street and Hal unknowingly becomes targeted by a Mech, saved only when his dad pushes him out of the way, saving his life at the cost of the valuable food. They continue to duck and cover behind cars as they run to the barricade further down the road. Resistance members give them cover fire as they dive through a hole to the other side. However, the victory is short lived as the Mech fires a missile blowing up the barricade and killing the resistance members on top. Shaken up by the explosion, Hal is quickly pulled to his feet by his dad and dragged into a store to hide They then witness Skitters hunting down a young wounded teenager strapping him up with a harness. Hal attempts to bolt but Tom grabs him and pulls him out the back door, recognizing that the position is lost.("Live and Learn")
As they duck out the back they run into another squad led by Cpt. Weaver who informs them that the Skitters and Mechs had taken most of the Commons and that they were to fall back. His dad argues that to lose this part of town will be to lose the city which Weaver says he knows but can't do anything about it. Suddenly, an alien ship flies over head and drops a bomb on Southern Boston. As they feel the back blast, another resistance fighter hysterically runs towards them screaming that South Boston is lost. They quiet her before she attracts Skitters and they begin their retreat back to the Militia HQ.("Live and Learn")
As they arrive back at the base, they are joined by Jimmy Boland, another fighter in the 2nd Mass. He asks about casualties, and Hal informs him of Cpt. Jameson's death which, as Jimmy points out, leaves the 2nd Mass leaderless. Later, as Anne Glass is informing Tom of Matt's progress in Art Therapy and showing him a picture he drew of his entire family, Hal comments that that looks nothing like him, in a joking manner.("Live and Learn")

Later, Hal assisted with the preparations to evacuate. Throughout the night, he and others began moving guns and ammo while listening to war stories from Anthony and Click. The main story told was about two guys from the 5th Massachusetts Militia Regiment who were cornered by a Skitter and managed to killed it with two bullets from point blank range. As the story winds down, Hal begins staring at the Mothership in Boston, which hadn't moved since yesterday. Hal says he wants to get inside and kill the leader of the aliens, causing others to say their own ideas. Tom adds some ideas that has worked from history, such as tunneling underneath it. However, Anthony stops him, telling him to stop with the history lesson, and they all go back to work. Hal asks his dad if he thinks it would work, and Tom tells him that it has in the past. Hal, a bit embarrassed by his dad, asks him to back off a bit with the history lessons when they're around others. Tom understands and agrees.("Live and Learn")
Later that night, Hal is talking with another Scout from the 2nd, Karen Nadler, who is also his girlfriend. As they are discussing different motorcycles that they use for scouting, Lourdes approaches him, wondering if he wants some food and telling him that she was worried about him. He accepts it kindly, and tells her not to worry about him. She smiles and says she is glad that he's okay and walks away. As Hal begins to eat, Karen mocks Lourdes by saying her last sentence over, albeit in a snark tone, causing Hal to grin.("Live and Learn")
Exodus
The morning of the exodus from Boston, Hal notices Matt asking his dad about his birthday party, and jokes around saying take it easy your highness, stinging Matt into a response, saying Hal had a birthday party, pointing out that it was after the invasion. Tom reassures his son that they'll do something when they get settled, which mollifies him, as the 2nd Mass begins to move out.("Live and Learn")
One Step Forward Two Steps Back
Later, after scavenging whats left in a grocery store, Matt worriedly asks his dad repeatedly if he and Hal will be at the meet up location; as Tom volunteered to go back to find supplies. Hal tells him to give it a rest, while Tom continues to reassure him that he will be there. Matt tells him he already knows what he is gong to wish for, going back to the earlier conversation. Tom inquires what it is, and Matt is hesitant at first, but caves saying he wishes everything would go back to normal, including having his mom and Ben back. His dad hugs him and tells him he wishes that too, and reassures him that it will get better. Hal then offers a high five, but quickly dodges it saying 'too slow'. However Matt quickly high fives his other hand, saying Hal's the one who is slow, before moving out with the rest of the civilians, while Hal and Tom prepare to head back into the city.("Live and Learn")
After the rest of the 2nd Mass begin to move out, Hal, along with Jimmy, Click, Anthony, Karen, and Dai, gather up with Tom to plan their raid into Boston. Tom points out on a map that there is a store in West Newton and a food distribution center in Watertown, both places where there might be food. However, considering how close they were to the city center, they were most likely traps. He also points out that the main Skitter reinforcements would either come down River Road or Blanchard Road and they needed to know which on to avoid Skitters coming up behind them. He tasks Hal and Karen to scout the two roads to find out which one they're coming down, while the rest of them wait at the train station. As Hal and Karen begin to leave, Tom calls Hal over, asking if he needs any more 'hollow nose' rounds. Hal corrects him, saying its hollow point, but says he could use another clip, which Tom corrects saying mag. As he walks off, he comments on how before the invasion his dad would worry about him riding to his friend's house cause he didn't have a bike light, and now 8 months later, Tom is offering Hal extra ammo. Tom sighs and says things change, but as Hal continues to walk away, says somethings don't. Hal pauses then turns around and hugs his dad, telling him to be safe which Tom replies same to you, before Hal gets on his bike and leaves with Karen.("Live and Learn")
Close Encounters
After a touching moment with his father, Hal and Karen drive off, splitting up to scout for the Skitters Mech; attempting to determine which way they were moving. While scouting, Hal spots Ben and a few more harnessed kids being marched to an unknown destination with Mech's surrounding them and quickly hides to watch. He and Karen quickly ride back to inform Tom and the others that Ben is alive and harnessed. Though Hal wants to forget the food mission and get Ben back, his father disagrees, saying it's too dangerous to go after Ben at the present time and that they should get the food, return it to the camp, and then go after Ben. Hal gets on his motorcycle, threatening too go off for Ben by himself, but Tom wrestles him off the bike and eventually convinces him to wait on the rescue mission.("Live and Learn")
After regrouping, Tom, Hal, and Dai enter the grocery store first and after seeing the coast is clear, the other fighters follow and start to obtain food from the store. While Hal is reaching for food, a Skitter appears and Hal falls backwards off a ladder he was standing on. Tom, hearing the commotion, runs to his aid and starts shooting at the Skitter. Hal scurries away from the gunfire and a Mech appears moments later. It begins to chase Tom but, after Hal shoots at it, the Mech targets Hal. Using an explosive the fighters bought with them, they set it off near the Mech and it explodes. The Skitter is then killed by a gunshot in the head from Dai, just as it was closing in on Tom.("Live and Learn")
They return to the camp and Lourdes approaches Hal, anxious to see him. Tom also tells Capt. Weaver that he and Hal will be going after Ben, after they finish their next mission, which is taking the Acton armory.
To celebrate Matt's birthday, Anne gives him a cupcake and Hal gives him a Ripstick, which he says is from Tom. Tom gives Hal a thankful gaze and the 2nd Mass watches as Matt rides around on his new Ripstick and gives other kids a chance to ride on it as well. After a few moments, Weaver informs the camp that it's time too move out and the 2nd Mass departs from the area. ("Live and Learn")
Sometime later, Tom, Hal, Karen, Jimmy, Anthony , and Dai are already staking out the Armory. In order to see if any Mechs or Skitters are in the area, Hal throws a tennis ball at the front steps of the armory and a yellow lab, Nemo, bought along on the mission chases after it. A Mech stomps out and Jimmy chases the dog and saves it, but almost gets shot at by the Mech in the process. Luckily, Hal quickly moves Jimmy out of the way. The Mech then begins to chase them, but they quickly run away, along with the rest of the group.
When they get back to their base, word has gotten out that Hal saw Ben harnessed and other parents begin to approach him, wondering if he has seen any of their missing children. Hal informs them that he hasn't seen any of them. Weaver tells Tom that, because their mission to take the armory wasn't carried out properly, that rescuing Ben will have to wait until it's done. Therefore, Tom, Hal, and the rest of group must head out yet again. Before they leave, Mike approaches Hal and asks what direction the harnessed kids were going. Hal tells him and Hal asks Mike why he didn't ask him if he had seen his son earlier. Mike says that if Hal had seen him, he would have said something. Hal also admits that once he had seen Ben, he didn't acknowledge anything else.
Lourdes then approaches Hal and Karen, offering to help Hal carry one of the water jugs he is currently carrying. Hal tells her that he's okay, but Karen offers for Lourdes to carry one of hers. Lourdes goes to take one, but Hal says that Karen was just kidding. Karen shoots Hal a look, showing she wasn't kidding. Lourdes then tells Hal that she saw him looking tired while she was praying at a nearby church. Karen sarcastically says that she wonders if Skitters have a God and Lourdes tells her that despite many people losing their faith, she has more faith then ever.
Hal and Karen then find themselves in an empty bedroom, once inhabited by a young girl. Karen expresses her distaste of Lourdes flirting with Hal, but Hal just shrugs it off saying that Lourdes was just being nice. Karen disagrees and Hal assures her that there is no competition. Tom then interrupts as Hal and Karen start to kiss, informing them that they are heading back to the armory tonight and then the Ben rescue mission will have to wait a little longer
That night, Hal, Tom, and the rest of the group from earlier, sans Jimmy, are back at the armory. Almost instantly, Click is hit with an arrow. The group takes cover and find out that they are being attacked by other humans. The unidentified group of humans leader informs Tom that shooting at them will only attract attention and that they are better off surrendering themselves and their weapons. Tom tells the man to reveal himself, but Hal and Karen get caught, forcing the team to drop their weapons and come out.
Tom, Hal, and the rest of the group are being led back too "home base" by these unknown men and soon come to find they are in an auditorium with a group of rouge criminals led by fugitive John Pope. His brother, Billy, is injured and Pope asks if any of the hostages can fix him up. None of them can, and Pope says that they aren't useful. He asks where they are from and Tom tells him they are from Cambridge, which is in worse shape then where they are currently, in Acton. Pope asks if they are a family and Tom tells him that they are just a random group of people trying to survive. Tom also tells him that aren't part of any resistance and got their weaponry from the National Guard and dead cops.
Pope tells Tom that they will take Hal, Karen, and Dai into their group, but won't take Anthony and himself, saying that they don't need another leader. Pope aims a gun at Toms head and Hal, fearing for his fathers life, tells Pope that they can get him more guns. Pope challenges this, questioning Hal about his fathers claim that they were just random strangers, but Hal tells all, saying that they have guns as they are a part of a resistance called the 2nd Massachusetts.
Pope grabs Hal and throws him to the floor, proceeding to inform a panicking Tom that he knows exactly what is going on in the 2nd Mass and that he knows how many fighters and civilians there are and about the Pontiac GTO with a 50 cal attached to it they have in their possession. Pope has been watching them and says he was staking out the armory because he knew they would come there looking for more guns.
Pope then puts a knife to Hal's throat and reveals he knows that Tom is Hal's dad but he won't kill him, yet. Pope picks Hal up off the floor and offers to trade Tom and his crew for the 50 cal attached to the Pontiac. Pope calls for Margaret to lead Hal back to his camp and inform whoever is in charge of their resistance of the deal.
On the way back to his camp, Hal attempts to reason with Margaret to join up with the 2nd Mass, but she shows no apparent interest in doing so. Hal tries a sneak attack on Margaret, but she quickly reverses this and puts a knife to Hal's throat, warning him to not try anything like that again. Frustrated, Hal complies and they finally reach the area where his camp is. Margaret tells him to be back in one hour.
Hal finds Capt. Weaver and tells him of their run in with Pope. Weaver tells Hal they won't be trading anything for his father. Hal tells Weaver that they put a gun to his fathers head and he has to go back. Weaver is still not having it, saying Hal couldn't even tell him where they were since Hal had a bag on his head the whole time. Hal tells Weaver that they were in a school auditorium, a fact Weaver thinks is unhelpful and still says that he's unwilling to make a trade and that he has civilians too worry about. Hal says he'll go by himself but Weaver tells Mike to watch Hal in another room until they are ready to leave. Mike tells Hal that he will pretend Hal overpowered him. Before Hal can leave, he runs into Anne, who tells him that she thinks she can help.
Hal and Anne go to meet up with Margaret and Margaret wonders where the gun is that Hal was supposed to bring. Anne tells Margaret that she can help fix up Pope's brother, Billy. Margaret warns her that if Anne goes to Pope, she might never leave. Anne goes anyway as she, Hal, and Margaret return to the auditorium once more.
Upon returning to the auditorium, Pope isn't pleased to find that there is no 50 cal with them. Anne asks Pope if she fixes Billy, will they let them go. Pope says if she fixes Billy, he'll let them live. Anne fixes Billy and Pope leaves the hostages from the 2nd Mass, Margaret, Billy and one more fighter, Cueball, behind. After Billy makes lascivious comments to Karen, Margaret shoots him and Cueball, revealing she had been sexually abused by both of them. She then joins the 2nd Mass against Pope. As Pope is taking the 50 Cal off the GTO, Hal, Tom, Margaret, Dai, Click, and Karen shoot at Pope. Pope and his men fire back, but an alien ship fires an air strike over them but Pope thinks he's clear as he jumped in the Pontiac with the 50 Cal attached, but he runs into Weaver and is taken prisoner by the 2nd Mass. ("The Armory")
The next day, Hal, Tom, and other fighters are watching Ben, from a warehouse roof, and other harnessed kids piling scrap metal while 3 Mechs and 2 Skitter watch and patrol the area. While peering over the roof to get a better look, Karen accidentally knocks a loose brick to the ground, drawing attention to them and they retreat, Tom promising Hal they'll come back for Ben.
Tom, Hal, and Co. head out once more too rescue Ben. Hal and Karen are crouching with guns as a Mech passes right by them, but doesn't notice they are there. Mike, who is with Tom, spots his son, Rick Thompson, for the first time since the attack. He runs out into the open, despite protests from Tom, and grabs Rick. When a Mech comes stomping up in response, Tom sets off a car bomb and the Mech is destroyed. After hearing the bomb go off, Hal and Karen think the mission is complete and run out of their hiding spots. A Mech fires at Tom and misses, but Tom gets knocked out because of the close proximity. Dai throws an unconscious Tom in the back of a truck they bought along, leaving Hal and Karen behind.
Hal and Karen come face to face with a Mech as the truck drives away. When Tom comes too sometime later and asks Dai where Hal and Karen are, he is upset to find out that Dai had left them behind, saying they couldn't wait for them. Tom tells Dai, Mike, and Rick to go back to school and that he's going back for Hal and Karen. Dai urges Tom to come back to at least get some reinforcements, but Tom says there's no time.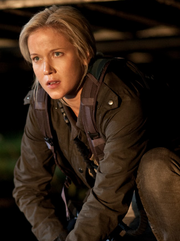 After being attacked by a Skitter, Tom injures it and brings it back to the 2nd Mass as a prisoner, then gets a gun and heads out for Hal and Karen.
Hal awakens after being unconscious and sees some harnessed kids, Ben included, dragging an knocked out Karen away. Hal calls out to Ben, but to no avail. A light suddenly shines on Hal, and Hal turns his attention to an appearing Skitter, along with 5 harnessed kids. The Skitter points at Hal and then shoots the kids in front of him as Hal screams. The Skitter then allows Hal to leave. Hal then spots Tom looking for him in the street and collapses in his arms. Hal points out that Tom left him and drove away. Tom says he wouldn't have left if he hadn't been unconscious at the time. Hal starts crying and says that he is just glad that Tom came back for him and Tom tells Hal that he is just happy that Hal is alive. They hug and Hal tells Tom about what happened too the harnessed kids. Tom says that this is a historical prisoner of war tactic, "take one, kill the rest", and that the Skitters were trying to deliver that message by letting Hal leave. Tom says that, next time, they will take all the kids, not just one. In a conversation between Tom and Anne, we discover that Hal blames himself for what happened to Karen. ("Prisoner of War ")
Sometime later, Capt. Weaver tells Tom that he wants him and his team to check out an nearby motorcycle shop. Tom wants to try and rescue Ben again, but Weaver convinces him that it's smarter to go for the bikes, then more drugs to help detox the previously harnessed kids, then Ben. Hal, Tom, and other fighters of the 2nd Mass prepare to go for the motorcycle shop. Pope comes along, unarmed, because he knows how to get too there, much too the distaste of the rest of the fighters.
On the way too the motorcycle shop, Tom tries to talk too Hal and comfort him about the situation with Karen, but Hal insists he's okay. Tom tells Dai that Rebecca, Tom's wife that died in the attack, was always the one to get through to Hal and that it's hard to remember that Hal is only 16 years old sometimes. Pope veers off from the group and sees a sleeping Skitter, encouraging no one too shoot it because it'll wake up. Tom tells the group too forget about the sleeping Skitter, as that is not part of their mission. Pope is unhappy about this, but has no choice but to follow suit.
Once at the motorcycle shop, Pope hits Dai in the back of the head and escapes, killing the sleeping Skitter by setting it on fire as the group sees the smoke in the distance. Hal confirms that the Skitter was set on fire and that a group of harnessed kids are on their way too the motorcycle shop after going out to do some recon of the area. The kids show up with guns and start shooting and Tom points out that a Skitter must be nearby. After deciding that they can't kill the children, Tom sets off a distraction, allowing Hal and Anthony to escape.
Later on, Hal is looking at a key chain he got for Karen but quickly puts it away as Tom walks in, holding a Harry Potter book. Tom tells Hal that, though Ben was a little old for bedtime stories, they made an exception for Harry. Tom tells Hal that Ben will be okay when they get him back, but Hal disagrees, stating that Ben may come back "different". Tom tries to convince Hal otherwise but, ultimately, fails in doing so. Hal explains that Ben was like a totally different person when he dragged Karen away. ("Grace")
Hal and Margaret go on a supply run for medicine and come back with large backpacks full of drugs that will be useful in weaning the previously harnessed kids off of whatever the harnesses were releasing into their systems.
In discussing how they can save Ben without any casualties, Hal suggests that he goes in alone at night to avoid a sleeping Skitter from waking up. Tom, not too keen about the idea of Hal going in by himself, states that they don't know how to silently kill a Skitter. Figuring that crossbows are the best way to kill a Skitter quietly, Margaret attempts too assist Hal in using one. Hal's skills with a crossbow, however, aren't too promising and Margaret's tip to him is too make sure he gets close enough to avoid missing. Margaret then tells Tom and Hal that Ben is definitely at the hospital and that she knows her way around it because she spent a lot of time visiting her aunt there.
Hal then visits Weaver, saying he can go undercover with Rick's harness on his back and sneak into the hospital undetected. Tom pulls Hal aside and Hal tells him that he spoke to Rick, who told him that the Skitters allow the kids to walk around the hospital by themselves. He also tells Tom that he doesn't think the Skitters can tell if the harnesses are actually connected and wired to the kids unless they are trying to communicate with them. Weaver agrees with Hal, but Tom doesn't, given that they still don't know how to effectively kill a Skitter without making noise and, until they know how, Tom is deciding anything.
Anne figures out a way to kill the Skitters without making too much noise and shares it with Hal and Tom. She opens the cage door to their captive Skitter and stabs it in the back of its throat and it instantly dies.
With that, Hal, Tom, Margaret, and Dai head out too the hospital and, after going over the plan and a father-son moment, Hal sneaks past a patrolling Mech and enters the hospital. He falls in line with other harnessed kids and does his best to blend in, successfully not drawing any attention to himself. The kids pile together as they get ready for sleep and, in a very motherly fashion, the Skitter goes to sleep on top of all of them, Hal included. The Skitter pats Hal's head, making Hal understandably uncomfortable, as it settles to go to sleep.
Tom thinks that Hal has been in there too long and Margaret agrees that he should've reached Ben by now. Her and Tom go into the hospital together to get Hal.
Hal goes to kill the Skitter with his switchblade, but it begins to stir so he holds back, unwilling to risk it. Hal goes for his knife again and Ben opens his eyes and looks directly at Hal. Hal says Ben's name, causing the Skitter to wake up. Hal wastes no time and shoves the knife into the Skitter's mouth. The Skitter proves to be more of a challenge then the prisoner Skitter Anne killed before and pushes Hal back. Hal jumps at the Skitter again and the rest of the harnessed children try to pull Hal off of the Skitter. The Skitter pushes Hal down again and Tom, who has just shown up with Margaret, shoots the Skitter in the gut, and Hal stabs the Skitter in the mouth one more time and then proceeds to slam its head into the floor, finally killing it and rescuing Ben and the other harnessed kids in the process.
While Ben and the other harnessed kids are being attended to by Anne and Tom, Hal is sitting outside the room they are all in. Margaret comes by and reveals to Hal that the reason she knew all about the hospital was because he had cancer when she was sixteen. Hal asks her what kind of cancer she had and she told him that it was "bad" and that it came with a 50/50 chance survival rate. Hal tells her that he's glad she made it as she walks away. Tom then approaches Hal and tells him how proud he is of him and how brave Hal was. He also tells Hal that Ben will be okay.
While Tom, Hal, and Matt are sitting with a sleeping Ben, he finally wakes and seems to recognize his father. The family is happy, as Ben doesn't seem to be in such a zombie-like state like Rick is. ("Silent Kill")
Sometime later, the 2nd Mass has received warning of an upcoming attack by the Skitters from Terry Clayton, a member of the recently attacked 7th Mass. Because of the forewarning, Clayton urges anyone in the 2nd Mass under age 20 should leave with him so they can be saved. While this debate is happening, Hal is troubled when he discovers that the newly rescued Ben can now do 102 pushups without even breaking a sweat, seems to miss the Skitters, and said that he wasn't sure he missed his actual family. Hal brings this issue too Anne who tells Hal that she's sure it's nothing but she brings up to Tom, showing some concern about the situation.
Hal's worries about Ben seem to fade into the background, however, when Margaret calls his attention to a man harassing Ben on a cafeteria line. The man calls Ben a "razorback" and Hal shoves the man away, coming to his brother's defense.
Hal continues to be protective over both of his brothers when he decides to go with them when they head to the barn that Clayton suggested all the kids go too. Tom says that Ben and Matt will be protected just fine, without Hal there, but Hal insists after he reflects on a promise he made to his mom to always protect Ben, despite the fact that they were always at each others throats. Upon realizing his older brother is joining him, Ben is happy.
On the way to the barn, Hal notices that something is amiss, giving the audience the first official clue that Clayton isn't who he says he is, and points out that, according to the map, they should be turning a different way. Clayton says that he isn't following the map to avoid putting anyone in unnecessary danger and insists that his way is, indeed, the right way. Hal buys it and continues the way Clayton says. It is revealed, that Clayton has worked out a deal with the Skitters to trade kids for the safety of his people. The kids of the 2nd Mass were bought to the barn to be those sacrifices. ("Sanctuary Part 1")
The next morning, Hal and the rest of the kids in the 2nd Mass are playing a game of soccer with kids from the sanctuary. Tessa , a girl from the sanctuary, has a crush on Hal but her father warns her not to get too attached because she knows what the kids from the 2nd Mass are there for. Later that night, it's dinner at the sanctuary and Rick asks Ben how could he "eat their food". Ben seems taken aback at this, while everyone else attempts to ignore this. Mike apologizes for his sons odd behavior as Ben excuses himself from dinner and Hal follows suit shortly after. Hal goes to help clean up, but Tessa excuses him from chores since he's "new here". Lourdes mocks her, not to keen on the competition for Hal, before walking away. As she does, she comes across Eli Russell's backpack, a kid who went running from the 2nd Mass with his parents and the same kid who was traded to the Skitters the night before. She brings the new found evidence to Mike. Hal, who was in the middle of a conversation with Tessa, is interrupted by Lourdes and Mike, who wish to share the information with him. Lourdes fills them in and Hal adds to the suspicion by saying that nobody seems to be guarding the sky or the roads, that the people in the sanctuary seem to be more concerned with keeping everyone in rather then keeping anything out. Mike tells them it's probably nothing and sends them away, but checks around anyway. He discovers more of Eli's things around the sanctuary and is confronted by Clayton who tells Mike that he is trading children to assure his safety and the safety of his people. He asks Mike if he's in.
That night, Mike is telling Hal how Rick never used too complain and how he wished Hal could've met Rick before he was harnessed. Hal, suspecting something is up, asks Mike to tell him what's going on. Mike tells Hal that Clayton made a deal with the Skitters and that they have to get out of there. Hal and Lourdes wake everyone up and begin to head out the barn. Before they can leave, Hal runs into Tessa and asked her if she knew about the deal with the Skitters. Tessa tells Hal that she was going to talk to them about Hal to see if they would let him stay. Hal can't seem to believe what he is hearing and ignores her. He hurries the rest of the kids out but not before Tessa calls for help. Hal makes a move to quiet her but Mike tells Hal to forget it and that they are running out of time. Hal listens and the kids make a run for it. Mike stays behind to try and hold them off and tells Hal too watch out for Rick. Mike and Rick say their goodbyes to each other and Hal and Rick run off. They hear a gunshot in the distance and know that Mike's life has reached an abrupt end. Hal urges Rick to keep moving, who shows little to no remorse for his fathers death.
Hal and the rest of the kids take refuge in an abandoned house so everyone can rest. Ben, who requires very little sleep, tells Hal that they need help and he can move fast to get it. Hal doesn't like the idea at first, but then agrees it's for the best. Before Ben leaves, he thanks Hal for rescuing him from the Skitters and they share a little brotherly love, and Ben is off. Ben sees Clayton and his crew and runs away, running into Tom and Dai shortly after, who suspected something was up and went to go look for the kids. Ben tells Tom that Hal and all the other kids ran from the sanctuary because something was up with Clayton. Tom then goes after Hal and the others alone, while Dai and Ben head back too their camp.
Hal tells Lourdes that he's not only worried about Ben but about all the other kids too. Lourdes asks Hal if he thinks they can beat the aliens to which Hal responds, "I think we're gonna kick their alien ass". The moment is interrupted, however, as Clayton and his men find the house Hal and the others were hiding in. He tells Hal to come out, but Hal tells Clayton that he knows about his deal with the Skitters. Clayton says that he won't feel any remorse or regret if he kills one of Hal's friends. Hal tells Clayton to go to hell and shoots his gun. Clayton gives the order to take out Hal, but Pope, who was previously a prisoner at Clayton's sanctuary, takes out the shooter who was going to kill Hal. Clayton and Pope have a small shoot-out, which gets Pope and bullet in the leg.
Tom arrives on the scene, tells Clayton that Pope is dead, and offers himself up as hostage too save the kids. Tom tells Hal too come out of the house and Hal does, albeit frustrated. Tom and Hal are both disarmed and are walked back to the sanctuary, where Weaver and more of the 2nd Mass fighters are waiting for them. Most of Clayton's men drop their weapons and Clayton, seemingly, drops his. Clayton asks Weaver if he's going to shoot him to which Weaver responds "if I have to." He then turns to Tom and tries to pull a gun on a nearby Hal, but Tom shoots him without a moments hesitation. Tom asks if Hal is okay and Hal says that he is, and the Mason family is reunited once more. Back at the 2nd Masses camp, Hal says a few words for Mike, about how he sacrificed himself to save everyone and how he'll be missed. Hal finishes and stands by Margaret, who holds his hand, hinting at a romantic link between the two. ("Sanctuary Part 2")
Sometime later, Hal spots Ben doing an excessive workout regimen. Although Ben says that he's fine and shakes it off, Hal still seems bothered that Ben doesn't appear to be acting normally ever since he came back from being harnessed.
Commander Porter returns and informs Tom and Weaver that they will be launching an attack on the aliens in 4 days time. In order to carry this out, Tom, Hal, and Weaver go back to Boston to stake out the area. In the process, they find a new breed of alien, and a woman named Sonya Rankin who has been living on her own. She had worked out an arrangement with the aliens where, apparently unknown to her, she could live peacefully if she told the aliens where people who popped up in her area were with the aliens "promise" not to hurt anyone. After Tom and Hal leave her shortly after to follow a troubled Weaver, a Mech shows up and Tom kills it. Putting the pieces together, the three figure out about Sonia's deal. Turns out that the harnessed child that she's been communicating with was Karen, Hal's girlfriend, who is not in control by Skitters, but by the new breed of alien. At this realization, Hal is desperate to save her but, because of how little they know about the area and these new aliens, Tom convinces Hal that it's too dangerous. They leave Sonia, after a debate about what to do with her, and head back to the school where the rest 2nd Mass is.
Once they return, Hal vows to his father that he'll go back for Karen the first chance he gets. Meanwhile, Anne and Lourdes discover that Skitters are harnessed and that they may not have always looked the way the Skitters look. This brings to light the idea that Ben, though the harness has been removed, is still in danger, proving that Hal being wary of his brothers new attitude weren't so far fetched. ("What Hides Beneath")
Sometime later, Weaver orders Tom and Hal to be put on sentry duty, an idea that doesn't sit well with either of them. Hal tries to argue this with Tom, but Tom convinces Hal that Weaver isn't thinking rationally due to the abuse of medications he is taking and they shouldn't confront him because they need to work together.
Eventually, Tom does confront Weaver about the medication he is taking, a notion that sends Weaver over the edge. He has Tom imprisoned and forces Jimmy to tell Hal and Margaret, who hatch a successful plan to rescue him. Tom speaks to Dai, who was injured and was being tended to by Dr. Glass at the time, and discovers that the 4th and 5th Mass never made contact with Porter so the plan for the 2nd Mass to meet up with them and attack one of the alien ships is no longer happening. Weaver intends to go through with the attack anyway and didn't inform anyone that the other groups probably wouldn't be showing up, putting the 2nd Mass at risk.
Tom talks to Pope and seemingly convinces him to hold off on giving Weaver the weapons he needs for the alien attack unless he calls the whole thing off. Weaver then finds Tom, Hal, and Margaret and is forced to give up his weapon since he is outnumbered. Pope then shows up and pulls his gun on Hal, Tom, and Margaret, explaining that he would rather take out the alien ship with less people then not take it out at all. Tom then reasons with Weaver and they come to an agreement to let everyone know about the recent developments and let everyone decide for themselves whether they want to join Weaver in taking down the ship.
After informing the 2nd Mass of the plan, Hal tells Tom that he wants to go with Weaver and Tom reluctantly agrees. ("Mutiny ")
The 2nd Mass volunteer's for the plan begin their trek out to Boston, with Hal leading the way. Hal tells Weaver that they've been lucky so far, as they've made the trip without running into any major problems. While they're talking, Hal notices that Weaver's hands shake as a result of being off the medication he had been abusing for some time. Weaver notices Hal's recognition of this and asks how much he knows. Hal explains that there aren't many secrets between him and his dad and, now that Weaver stopped taking the pills, he feel's comfortable executing the plan with him. Hal believes that Weaver is still wondering why he came and, proving the apple doesn't fall far from the tree, Hal makes a historical parallel referencing Pearl Harbor. He explains how soldiers his age wanted to fight back against the enemy despite how long the war would last or how much danger they'd be in. Weaver says that this is different because the aliens don't make the same mistakes and that "they haven't missed a beat yet". Hal disagrees, referencing the 2nd Mass soldiers behind them and how they're still alive.
Once the group gets to the spot where the 4th and 5th Mass was supposed to meet them, it is proven to Weaver that they've been taken out, because they didn't show up. Weaver tells the group that no one has to stay because the mission has gotten increasingly more dangerous. Hal, along with the rest of the group, decides to stay and fight. Weaver sends four separate squad groups to set up the bombs at the base of the alien structure hovering over Boston, then will send Hal and Anthony to recon with the other squads. They will then rig the charges, blow them up, and get out of there. At that point, everyone will be on foot and on their own and must make it back to the school anyway they can.
Hal and Anthony return from their scouting mission and tell Weaver that the Mech's are positioning themselves around the alien structure. Anthony says that they couldn't make contact with any other teams but he saw smoke coming from one of positions at the base of the structure where the bomb was supposed to be, insinuating that an attack took place. Hal adds that he thinks none of the teams made it. Anthony continues and says that the Mech's look like they are on the attack. At this grim news, Weaver tells Hal to get on his bike and go back to the school while the rest of the group continues on. Hal is upset at this and says that he want's to see this through but Weaver tells Hal to go back once again and tell Tom that he was right and that the civilians need to be evacuated from the school. Hal argues that Weaver is going to need every fighter but Weaver tells Hal that there will be other battles as long as people know that Skitters can be hit hard. Hal doth protest some more, but Weaver tells Hal that he can lead the next fight and the one after that, but to tell everyone that the resistance drew blood from the Skitters, which isn't true since the 2nd mass hasn't done damage to any aliens on this trip. Weaver tells Hal to lie to give people hope. Hal, conflicted on what to do, eventually decides to head back to the school, albeit disappointed.
Hal returns to the school and tells Tom that the 4th and 5th Mass really didn't show up but Weaver is following through with the plan anyway. Tom says that it's a suicide mission and Hal agrees, telling Tom that he thinks it's why Weaver sent him back. Tom says that Weaver must know it won't work and finds it odd that Hal didn't run into any trouble on his way back to the school, concluding it must have had something to do with Ben and Scott jamming the Skitter frequency during a Mech attack earlier in the episode. Tom believes the aliens are withdrawing their forces and trying to figure out what happened. Tom says he wants the generator and the transmitter loaded onto a vehicle as soon as possible.
Scott and Hal load up the truck for Tom. Ben wants to go along with his dad in case the Skitter frequency changes and they're no longer able to jam it, but Tom won't have it. He also won't allow Hal to go. The three share a hug and Tom is off, while Hal and the rest of the people left behind at the school prepare to evacuate.
Tom reaches Boston and fires an RPG at the one of the ships, which flies into a pocket of the alien structure, setting it aflame. Tom and Weaver are in good spirits over this, finally feeling they got one over on the aliens. On the way back to the school they see a harnessed Karen and an Overlord. Karen tells them that they didn't expect resistance on this level and want to talk. Weaver looks as if he's about the shoot the alien next to her, but Karen tells him not to because the aliens still have control over Ben. Karen says that if Tom doesn't come with them, the aliens will call Ben back to them. Tom fears this might be true because of Ben's ability to hear the Skitter's frequency and because of the rough skin where his harness used to be is growing. Against his better judgement, Tom goes with Karen and the alien, much to Weaver's dismay. Weaver tells Tom not to go because they can't trust the aliens. Tom goes anyway, seeing how he doesn't have much of a choice since Ben's life is at risk, leaving a distraught Weaver behind. ("Eight Hours")
Over 3 months later at Charleston, is among those who defend the rebel skitters and Ben from Bressler's forces. Once the rebels are permitted to stay Hal visits Ben asking for him to come home only for Ben to say no insisting he stay with the skitters. He is later among those who attack the weapon only to be captured by Karen. Karen then kisses him while he is restrained which strangely knocks him out. Later when he wakes up in a hospital room a parasite (planted during the kiss) emerges from his eye and enters his ear sending him briefly entrancing him with pleasure before smiling malaciously heavily implying he is under the aliens control. (A More Perfect Union)
Personality
Edit
Hal is headstrong and brave, a talented scout and fighter. He shares a close relationship with his father that stems from the fact that they have been fighting side by side since the beginning of the invasion. Although sometimes cold towards his younger brother Matt, he cares for him as shown when he brought him a present back from a raid during Live and Learn. He had a complicated relationship with his brother Ben, but this seems to have left way to something new after Ben was rescued from the Skitters. Hal was apparently closest to his mother and many say that he looks like her. During Tom's period of absence, he had more or less taken on the role of a father figure for his younger brother Matt and an authority figure over Ben.
His weapon of choice is the Galil .
Relationships
Edit
Appearances
Edit