"
I don't miss.
"

— Tector
Tector Murphy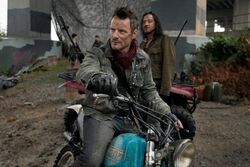 Occupation
Soldier(Currently), Marine (former), Fighter (former)
[[:Category:{{{Images}}}|Images]]
Tector Murphy is a fighter in the 2nd Massachusetts Militia Regiment.
Pre-Invasion
Edit
Before the invasion Tector served in the United States Marine Corps at the rank of Gunnery Sergeant. He served 2 tours in Iraq and Afghanistan.(Death March) While in Afghanistan he and his squad were ambushed and three of his Marines were killed; as he hadn't slept in a while beforehand he felt responsible for their deaths.
Post-Invasion
Edit
A recent addition to the 2nd Mass, John Pope took a liking to Tector due to his skill with a rifle and his ability to kill Skitters. He was recently recruited by Pope to join a sub-group known as the Berserkers. He stayed with the group after Pope left. He fought with the 2nd Mass and helped capure an alien Overlord.
In Death March he revealed to Captain Weaver his prior service in the military, Weaver said the Resistance would need people with his leadership skills, Tector said he only planned to see the 2nd Mass to Charleston, and would then keep moving without them. Later he revealed he felt responsible for 3 Marine deaths in Afghanistan, he also felt responsible for Boon's death. Weaver, using reverse psychology initially confronted him saying those deaths were his fault, this forced Tector to admit that none of those deaths were his fault.
After arriving and finding Charleston in ruins, Tector finds Weaver who is agahst and unable to face the 2nd Mass because he doesn't know what to say. Tector commits to both Weaver and the 2nd Mass by saluting him, giving Weaver the courage to deliver a speech about them trying to build what they were hoping to find in Charleston. At that moment, they are found by soldiers led by Colonel Porter.
He may originally be from Texas as in Love and Other Acts of Courage, he reminisced about listening to Rangers games.
He was likely close friends with Boon as he was noticeably upset when Boon was killed.