Uncle Scott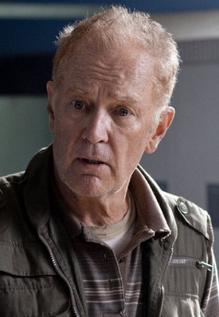 Mentioned in
{{{Mentioned}}}
Occupation
Engineer/Repairman/Weapons Creator/Cook/Teacher
Date of birth
{{{Birth}}}
Date of death
{{{Death}}}
Origin
Acton, Massachusetts
[[:Category:{{{Images}}}|Images]]
Uncle Scott was a civilian traveling with the 2nd Massachusetts Militia Regiment. He had taken on role of the teacher and engineer/repairman and a jack-of-all-trades. He was married to Aunt Kate.
Going to GroundEdit
The morning of the exodus from Boston, Uncle Scott is working on one of the trucks getting it ready to move. Captain Weaver comes along and asks how long it will take, which Scott says it will take a few minutes. Weaver tells him he has ten and leaves, leaving Scott grumbling. His niece, Anne Glass, then approaches carrying a box of medical supplies, asking if she should load them in bags or the truck. He says the truck and continues working on it, while his wife, Aunt Kate, leans out the window and says bags, agreeing with Anne. As if on cue, Scott fixes the problem and the engine sputters to life, causing him to turn at the two disbelievers. They finish loading the supplies and begin to drive out with the rest of the 2nd Mass. ("Live and Learn")
While at John F. Kennedy High School, Scott has taken up developing homemade explosives but has little success. He also puts together a primitive radio from a "fallout shelter tool kit" and it is with this new radio that the 2nd Mass discovered that the Skitters use radio frequencies to communicate or at least they disrupt static.
Eight Hours
Edit
While fixing the radio. Rick jumped from the ceiling throwing Scott to the floor. Scott only suffered a gash to the head, After being fixed up he returned to fixing the radio.
Season Two
Edit
In the second episode of season two, it was revealed that Uncle Scott died, it was later revealed that he was killed by Mechs in the Battle of Fitchburg, while protecting Anne and a group of children from a Skitter column.(Homecoming)