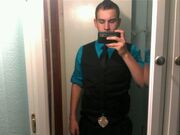 Evil Random Ferret
Evil Random Ferret (Chaotic Evil Guard Ferret of Randomness) is a hardcore gamer, science fiction author, and Psychology/Philosophy student. He has many aliases, varying from place to place. Other names are as follows:
Hermes The Good
Lord of The Dance
Mistress of Lava
X
X-Man
Hermest Das Gut
The Dude
Compares With Horses
Evil Random Ferret, short for Chaotic Evil Guard Ferret of Randomness, spawned in the primordial threads and RPs of Gaia Online. 1. was formed from the character limit of XBox Live gamertags. 2. and 3. both came from Looking For Group's character, Richard The Undead Warlock, dooer of evil, etc. 4. and 5. are based off of my real name, but since there are thousands of names that implement the letter X, you;ll never guess it *sarcasm*. 6. is German for 1. 7. is a Big Lebowski reference. And, finally, 8. is his Native American name, translated to English for your reading convenience. It is, in no way, shape, or form, referencing The Ferret's endowment and/or lady pleasing abilities. Refrain from making such a connection and commenting on it. That would be inappropriate.
Evil Random Ferret Guards the Gate of Randomness and Chaos. Due to its nature, the gate doesn't typically function as a gate, but more as an empty space that does jack-diddly sqaut. This leaves a huge amount of free time for The Ferret. Ferret's morality is defined as Chatic Evil, HOWEVER, he often act in more of a Chaotic Neutral, Neutral Good morality. The reason has to do with the ethics of the position he retains overiding his own morality and forcing him to both enforce Murphy's Law, as well as uphold balance, and other such things. Its really quite complicated, and no one feels like reading a page about Quantum Physics so that they can understand the Ferret's completely unpredictable intentions/
A good portion of his free time is spent at Blockbuster, where he gets paid minimum wage to be miserable and tell people which movies do, and which do not, suck. He would enjoy the work, if it weren't for the fact that Blockbuster was owned by Dish Network, resulting in various changes to the work enviornment which are grossly unhealthy, if even legal. The Ferret hates them to the point that he refuses to link them on this page. Suck it.